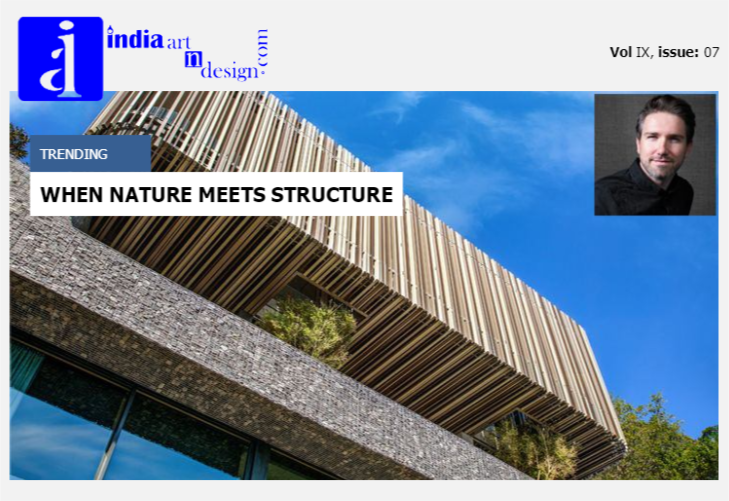 Projects
SAOTA shapes this Cape Town residence to blur the unmistakable thresholds between landscape and architecture, drawing on soft transitions and honest expressions.
Read more
Editorial

Dear IAnDian,

La dolce vita – the good life! What is the 'good life'? Luxury at your fingertips? A luxurious, scenic second home? A liveable space that balances both - sustainability and contemporary needs? A little bit of every aspect that one needs and… desires? Or is 'the good life' a commonplace phrase for everything gung-ho in life - that keeps changing according to one's priorities? More so this, I would think, especially in today's parlance.

So from visiting the mountainous, glass-balconied home that opens to the panoramic views in Cape Town, Africa (our cover story), to the Vision Hotel in Italy's Lake Garda that depicts a formidable mix of green and modern elements, to a human-centric experiential interior in Mumbai that focuses on the person more than the product, turning the popular retail sales dictum on its head; we have just three stories for you this week.

With an in-house celebration underway – our sister concern – Gallery Pradarshak celebrates its 25th Anniversary over the weekend, IAnD will be taking a short sabbatical and will be back at your service on the 19th of June. Do take a look at www.gallerypradarshak.com and you are most welcome to attend the celebrity brigade on 8th and 9th June, Mumbai.

Warm regards,
Savitha Hira
Editor

sponsored

In case you missed it earlier.




INDITERRAIN

global hop

Projects
A taste of la dolce vita

Studio Apostoli, with their design for the Vision Hotel, beautifully balance the experience of a modern interior with a technically advanced, sustainable exterior – all the while, celebrating the senses.

Read more

sponsored

product hub

In case you missed it earlier.

In case you missed it earlier.