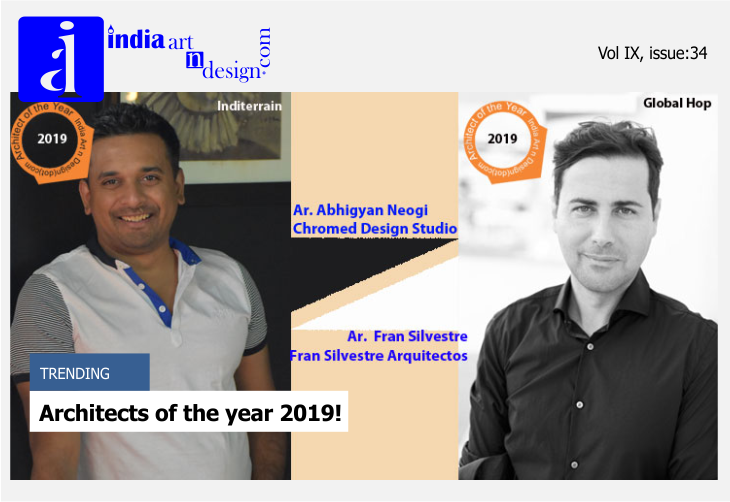 IAnD Exclusive
Team IndiaArtnDesign applauds Ar. Abhigyan Neogi of Chromed Design Studio, Delhi; and Ar. Fran Silvestre of Fran Silvestre Arquitectos, Spain as the Architects of the year 2019!
Read more
Editorial

Dear IAnDian,
The year has drawn to a close. A fulfilling year that forged many new relationships, strengthened old ones. Some nasty incidents too peppered our scenarios. Yet, 2019 was a fulfilling year. You gave us a lot of encouragement and appreciation. A big "Thank you" for helping us constantly raise the bar.

This week we're bringing you the most loved project and product - by reader's choice and the Editor's choice too - top 3 projects of the year. Additionally, we bring you the two Architects of the Year 2019 as we applaud them at IndiaArtnDesign.

The decision has been tough, to say the least. Challenging too, as the works that we feature almost every day, all year round, have already been through a grind to find their place. Sifting through them again was daunting, but enjoyable; as several nuances of different projects came to mind... It has been a year full of learning and sharing knowledge. We take this to yet another level in 2020 as we ready ourselves to bring you new content - new formats, new perspectives.

Wishing you a very Prosperous & Contented New Year 2020!


Warmly,
Savitha Hira
Editor

sponsored




INDITERRAIN

global hop

sponsored

product hub

In case you missed it earlier.