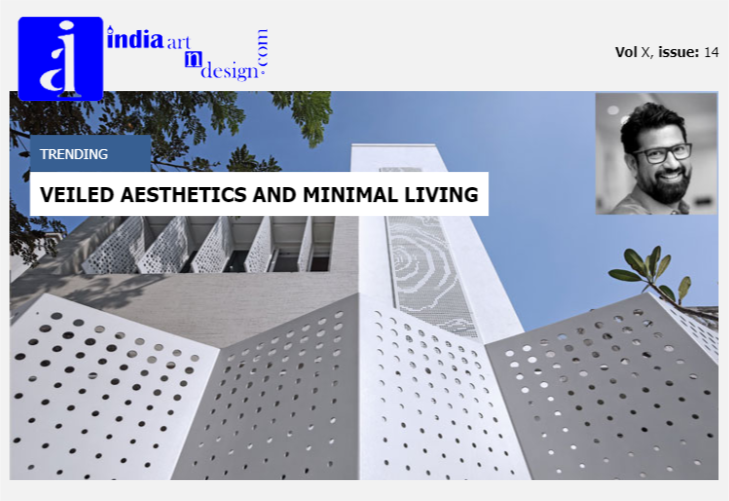 Ar. Dipen Gada designs a humble abode in Vadodara with the focus on low maintenance cost, sustainable environment, and climate responsive architecture...
Editorial
Dear Reader,
'Simple' and 'simplicity' are words that find varying definitions depending on the individual's perception and criteria of cataloguing. In the stories that we bring you this week, Dipen Gada (our cover story) and Atelier Barda, club a pragmatic approach with meaningful interventions to define simplicity.

Taking the two homes into account - the one in Montreal by Atelier Barda and the one by Dipen Gada in Vadodara, we see that minimal living is very elegantly designed with an aesthetic that fulfils a designated role in each case. Instead of extolling the plusses of the two approaches, I think I should just leave you to read the distinctive nuances of each... Totally recommended.

Besides, we bring you two other homes, a corporate guesthouse from Bengaluru and a vacation beachfront home from Florida. And in our product section, check out a newly launched washbasin that can be operated hands-free.

Enjoy the issue.

Warmly,
Savitha Hira
Editor
Inditerrain
Ranjani S of the eponymous IBR (Interiors by Ranjani) Designs incorporates colour-blocking and attention-to-detail as basic tools to craft a clutter-free, well-defined company guest house in Bengaluru...




Planet Design Studio carves out a contemporary bungalow in Ludhiana ensuring the homeowners' desired larger-than-life luxurious appeal…






In case you missed it earlier.
Global Hop
Champalimaud Design reinvigorates a Florida vacation home that was crying out to harmonise the colour palette that worked against itself.




Atelier Barda architecture uses an understated gray-scale gradient to craft out serene and uber chic interiors for a historic residence in Montreal…




Product Hub



In case you missed it earlier.