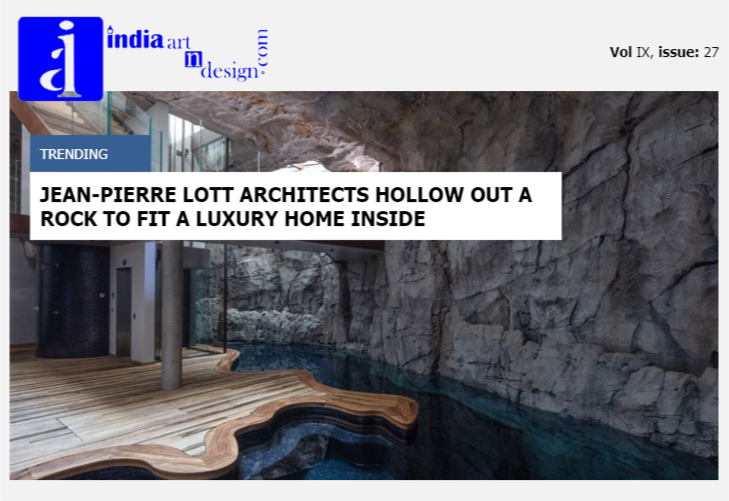 Projects
Jean-Pierre Lott Architects craft a very upscale project built into a rock in Monaco – a residence that is as exceptional in its space planning as it is in visual appeal…
Read more
Editorial

Dear IAnDian,

Design has a solution for almost every problem. Our stories this week - especially the Bookworm installation hopes to address the issue of literacy in the country. The installation is proposed to travel to other cities and rural areas creating awareness about the importance of education. Trust this initiative bears ripe - very ripe fruit. On our part, I think we should propagate it as much as we can.

Turning our attention to the cover story - a home cut out from a rock, this close-to-nature exercise is definitely the call of the times. Amidst the luxuries that we aspire for, taking from nature and giving back to it sustainably could contrbute a great deal to maintain the balance of our endangered ecosystems.

Moving to the fun part, we seem to be receiving a lot of new restaurant projects from all over the world. This underlines the fact that eating out is man's evergreen favourite pastime. Check out Sutra - the trendy gastropub in Noida and Piur - a pizzeria in Valencia.

As always, we will await your comments at editor@indiaartndesign.com

Warmly,
Savitha Hira
Editor

sponsored




INDITERRAIN

Review
A world of books under the sky!

The grounds of Chhatrapati Shivaji Maharaj Vastu Sangrahalaya (CSMVS), Mumbai, have come alive with a humungous, dinosaur-like, playfully interactive installation of books for children, symbolically reinstating the importance of education and knowledge-sharing…

Read more

Ideas
Sutra – Noida's eclectic gastropub!

Noida's Sutra is a gastropub with a narrative! Chromed Design Studio carefully weaves this experiential space using a few dollops of intrigue, a pinch of quirk and a liberal helping of heterogenous charm…

Read more

global hop

sponsored

In case you missed it earlier.

product hub

In case you missed it earlier.