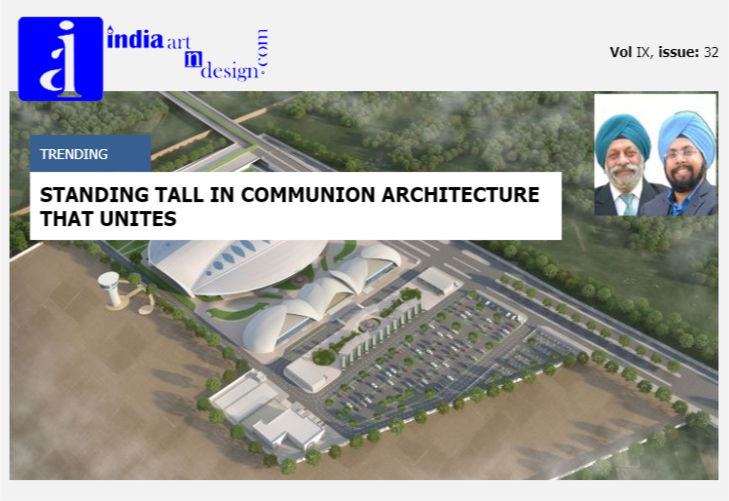 Projects
Eclipsing geographical boundaries and representing oneness and harmony, the Landport Terminal Building at Dera Baba Nanak, Punjab, marks a step towards unity between India and Pakistan.
Read more
Editorial

Dear IAnDian,

The best part about designing is striking a balance between work and play; between fun and responsibility; and between a deep sense of respect and accountability on one hand, and the challenge of a break-through on the other. Our many conversations with various architects and designers have veered around the aforesaid principles and aspects of a project - their animated visages a complete give-away of the passion that drives them. And as we see it, this is reflected in their projects as well, as you will see in the different approaches that govern our stories for the week.

The socially, culturally and politically significant Kartarpur Corridor project, the terminal of which is designed by Creative Group (our cover story) is a sensitively rendered design - manifold in its thought and execution. A must read.

The other projects - the LED overdose in Interstellar - the Mexico restaurant that takes you to another world; the pizzeria brand exercise that is executed with aplomb by Chromed Design Studio; or even the poetic architecture of the Shanxiao pavilion in progressive Chongqing, China... speak of dreams, aspirations, the keen desire to deliver to society at large.

We hope the nuances of design that've touched us, are communicated to you as well.

Warmly,
Savitha Hira
Editor

sponsored




INDITERRAIN

Ideas
Sutra – Noida's eclectic gastropub!

Noida's Sutra is a gastropub with a narrative! Chromed Design Studio carefully weaves this experiential space using a few dollops of intrigue, a pinch of quirk and a liberal helping of heterogenous charm…

Read more

In case you missed it earlier.

global hop

Ideas
A slice of outer space!

Offering an avant-garde view of the galaxy, this restaurant in Mexico portrays a ceiling that makes prominent the tropes of the universe's captivating mysteries…

Read more

Projects
Poetry in Architecture

The architecture of the Shanxiao Sales Pavilion casts a poetic presence, echoing Nanshan's tryst with culture, underlining the unison of man and nature, and the solitude found in the latter.

Read more

sponsored

product hub

In case you missed it earlier.