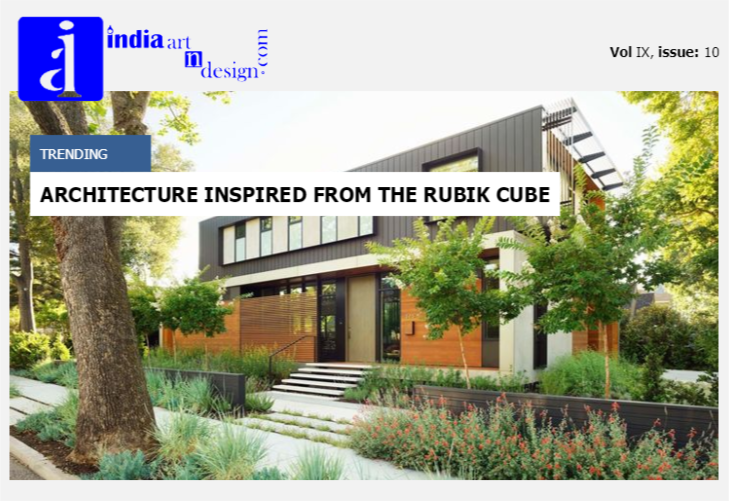 Projects
Studio VARA creates a small, flexible home with a large presence – a formidable challenge given the generous program within the limited allowable footprint of the petite corner plot…
Read more
Editorial

Dear IAnDian,

Simple interventions result in lofty solutions. This seems to be the mainstay of our stories this week. As we see a dessert studio using the softie swirl as its inspiration to create a focal ceiling that not just becomes the fulcrum of the interior design, but the store's chief marketing tool as well. On similar lines, the home in Palo Alto (our cover story) has its architecture inspired from the Rubik's cube, where the three-storey program boasts distinct materiality in its stacks which stay and recede creating intriguing sightlines.

As the equation between eating out and entertainment seems to be drawing an increasing parallel, people seems to be more appreciative of the little details that go into the making of the ambience as much as they are informed about their diets and preferred cuisines. Another restaurant that credits the devil in its details is the Batard in Instanbul, which has been redesigned with a singular contemporary vibe, but with its classic French influences undisturbed! Do check it out.

Do write in with your comments and suggestions. Do these light-hearted issues hold special appeal?


Warm regards,
Savitha Hira
Editor

sponsored

In case you missed it earlier.




INDITERRAIN

Ideas
When dessert studios are a visual treat!

With eyes wide open and a smile on the face; excitement, delight and amaze are just a few of the emotions that trigger at the very first glimpse of this vibrant and prismatic dessert studio designed by Ar. Goutaman and Ar. Madhini…

Read more

global hop

sponsored

product hub

In case you missed it earlier.

In case you missed it earlier.