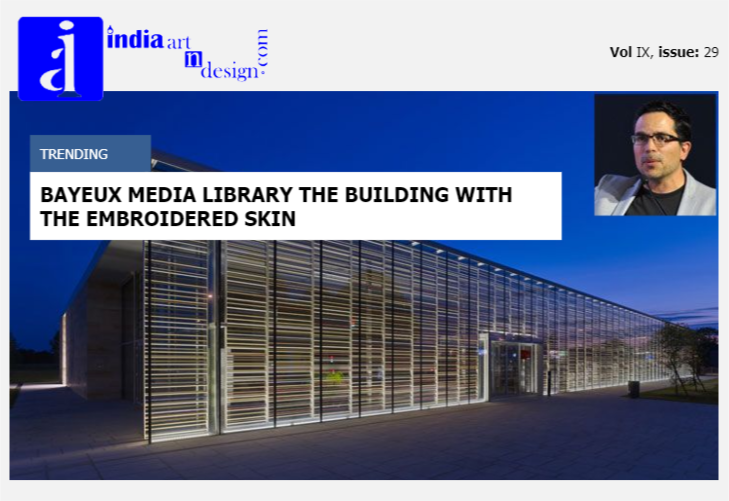 Projects
The Bayeux Media library façade by Serero Architectes Urbanistes is a strong, inescapable visual metaphor, as it stands facing the dense city centre of Bayeux, France.
Read more
Editorial

Dear IAnDian,

We seem to be brainstorming across the board this week! Our team brings you a potpourri of design stories - diverse; yet, so relatable. Ar. Brimda Somaya has given us much food for thought as she chairs the upcoming Women in Design International Conference coming January 2020, speaking about women achievers and path breakers in the field of architecture and design. But the highlight of the conference is that it will endorse that creatives know no boundaries.

Ar. Markus Roselieb of Chaingmai Life Architects takes his signature to another level with his design of an eco-friendly villa in northern Thailand, where locally procured natural materials weave a contextual narrative to shape up the mandates of a contemporary lifestyle.

Rooting context in design is the vibrant eatery in Gurgaon that epitomises the happy colours and vibe of Rajasthan. And on an inspirational note is the façade design of the Bayeux Media Library in France that talks about embroidery in architecture. An interesting and challenging take on a building design, the all-glass façade beautifully emulates the 11th century Queen Mathilde embroidery as its skin, becoming a landmark of Bayeux.

And not to be left behind - our Product Hub section brings you that covetous addition to your kitchen - a compact and handsome electric multicooker.

Enjoy the issue

Warmly,
Savitha Hira
Editor

sponsored




INDITERRAIN

global hop

Projects
A tale of wood and earth!

Situated between Lamyai tree orchards and rice fields against the backdrop of northern Thai mountains, Chiangmai Life Architects (CLA) designs an earthy and sophisticated home rooted in context…

Read more

sponsored

product hub

In case you missed it earlier.