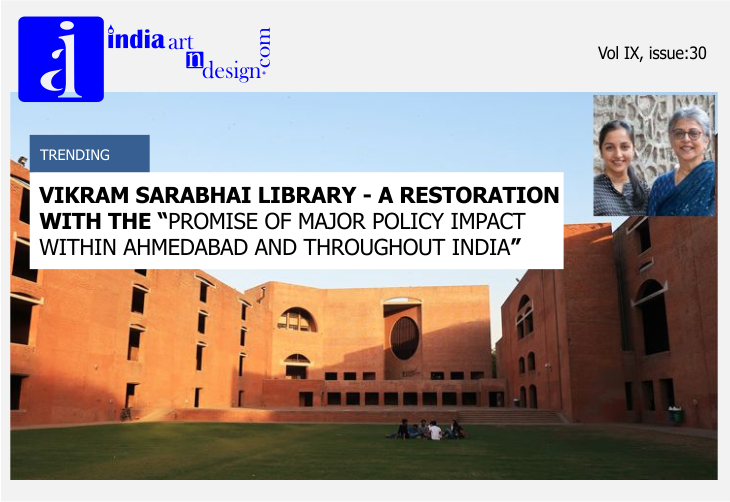 Heritage
Somaya and Kalappa Consultants Pvt. Ltd. (SNK) once again stand apart for their diligence, sensitivity and vision as they win the UNESCO Award of Distinction for the restoration work of the Vikram Sarabhai Library at IIM-Ahmedabad…
Read more
Editorial

Dear IAnDian,

It is a proud moment for us Indians and especially for the design fraternity that India is the recipient of four UNESCO awards this year. The highest has been the Award of Distinction swept away by Somaya & Kalappa Consultants (SNK) for their restoration and conservation work on the Vikram Sarabhai Library at the IIM Ahmedabad. The sensitivity to the built form and its inhabitants is integral to Ar. Brinda Somaya's repertoire and here too, it shines through the tough technicalities mandated by the project, holding its own. Several thoughts chased away at our mind as we imbibed her thorough and easy-to-follow analysis of why buildings should be revived rather than pulled down and built anew. Progressive and pragmatic, Somaya epitomizes the grace, quick uptake and diligent action that is the need of the hour as far as modern iconic heritage is concerned. Do check out our cover story.

And of course, there's lots more happening in the country and overseas. I hope you enjoy the issue.

Warmly,
Savitha Hira
Editor

sponsored




INDITERRAIN

Projects
When the devil is in the detail!

Ravish Mehra Deepak Kalra (RMDK) design studio seems to have mastered the art of designing a balanced mix of retail cum hospitality experiences as they revitalize mithai (sweetmeat) stores keeping the brand relevant to the present market scenario…

Read more

global hop

sponsored

product hub

In case you missed it earlier.